Here's my next painting project from the original Super Dungeon Explore V 1.0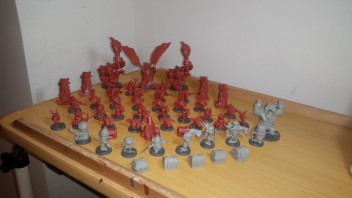 Thanks to Steve - and some glue education it's all been rebuilt today while I avoided the rain. Thank you Mr Cement S. It's my first time working with this plastic - and there's some Airfix kits I tried to mod for my Orks that this will also transfer too!


My inspiration for a paint job came from this pastel set from Super Dungeon Explore: Forgotten King 2.0 (And yes the next set is also on my Wishlists - despite all the issues with their latest Super Dungeon Explore kickstarter )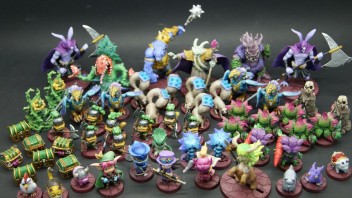 However I'd like a much brighter Neon retro 8/16 bit scheme - with each player character being dominated by a particular colour - like old sprites/palettes used to be. IE as below. So one Player (PC) gets one primary neon colour.
Most of the Mobs will be red/bone/cream - but again I'd like to go bright - especially with the lava effects on the tiles.
The mod spawners will be grey/bone - and have a LOT of Lava effect on them.
That would allow me to paint the dragon with a grey tower w/ lava and tie it all in....

I haven't decided how to paint the chests yet... I'll ponder on that - I may go blue/grey and gold rather than wood/gold?
Some of the Kobolds have armour - some robes - some strapping - while the base creature will be red/bone/cream.
I may just need to make sure the grey from spawners/dragon tower match the armour.
Make the robes & leather match the blue/grey from the chests.
That should make the mobs/chests (NPCs) all have a fixed pallette - leaving the PC each to stand out.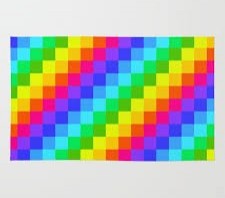 Rik has given me a few suggestions about inks and a white base coat - next month I should be able to grab either some Liquitex or Dalerowney inks, and follow Wills suggestion for a few light coats. I *may* be tempted into a demo with a spray machine for the red - but how would that work - I want to mask certain colours.. I might be better off sticking to brushes - too many changes in techniques at once isn't my normal method.
I have to be honest here and admit while I can layer paints I'll need some tips on layering inks. And at some point solid paint will be needed too - but hopefully just for details/eyes etc...
This will be my first attempt at anything non-Grimdark.
I'll take any and all suggestions with good grace