So the first Friday Night gaming session went pretty well. There were a few technological hurdles to overcome but, most importantly, games got played.
6 intrepid souls (Alex, Russ, Mike, JC, Alan and I) got involved in some gaming, and Darren briefly dossed off his work to check out what all the fuss was about.
The Zoom conferencing system worked brilliantly, and we now know that players can be divided up into sub-groups, through the Breakout Rooms feature. A great feature for when running more than one game at a time.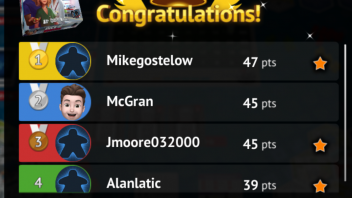 Unfortunately BoardGame Arena was overloaded with users so we were unable to game on that site. Tabletopia, however, held up well and we were able to start the evening with a 5 player game of Railroad Ink
Our overseas brethren, Alex and Russ had to leave due to work commitments (stupid time zones!) while Alan came online and the four of us played Dice Hospital. Some odd dice glitches aside the game played rather well (if a little longer than usual as we acclimatised to the system) with Mike taking a narrow victory ahead of JC and I in a tie for second place, just 2 points behind.
All in all a successful first Virtual Club night.