---
Tonight was a busy at the club with painting being the main event,
Rik was working on his next 40K Deathguard unit, Steve was painting Sikhs for his Men who would be Kings force.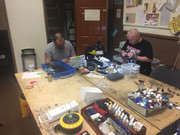 Danny was on with his Test of Honor Samurai army, Will carried on expanding his Napolenic French and Mike was painting some of his newly delivered Dwarven Forge Terrain.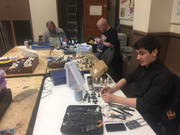 I had a busy evening dryburshing Kill Team Terrain and once that was done set about Matt Varnishing it all (nearly)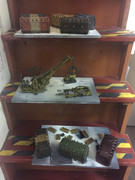 Andy and Dave had an inpromtu game of Dragons Rampant with Undead taking on the Zulu nation, read more in the battle report
here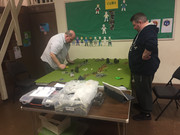 Over in the corner of the Hall Peter and Bryan where busy photographing miniatures for ebay, in this case a stash of Ancients Bryan had decided to sell so he will have enough money money to see Frozen 2 with his 3 daughters at christmas, what a champ!